In the quest for efficient and sustainable heating solutions, many homeowners ask, "How does a pellet stove work?" Pellet stoves, particularly wood pellet stoves, have surged in popularity recently as a modern alternative to traditional wood-burning stoves.
These innovative devices provide an exciting blend of the warmth of a wood fire with the convenience of automated features. As the name suggests, a pellet stove uses small, compressed pellets as fuel, differing from traditional wood-burning methods. To truly appreciate the magic behind wood pellet stoves, you need to understand how it works. Let's get down to the details.
But first, we have other information that could help you set up your home. For instance, if you would love to learn how to create a workspace in your garden, revamp your living room, or create a visually luxurious interior, these articles are a must-read.
What Are Pellets?
Wood pellets, the primary fuel source for pellet stoves, are made from compressed sawdust and other wood waste products. This compression process gives them their unique, small cylindrical shape. It also makes them denser and drier than regular firewood.
As a result, wood pellets burn more efficiently and consistently than the logs used in traditional wood-burning stoves. This means homeowners can expect a steadier and often hotter flame when using a wood pellet stove. You'll also get more consistent heating.
Furthermore, because these pellets utilize wood waste, they are a more environmentally friendly and sustainable energy source. The minimal moisture content in these pellets also contributes to their higher burning efficiency. Overall, pellet stoves are a worthy contender in the heating arena.
Anatomy of a Pellet Stove
To help you familiarize yourself with the pellet stove's inner workings, we'll highlight its primary components. Each of these components plays a distinct role in its operation. Compared to traditional wood-burning stoves, the anatomy of pellet stoves is a bit more complex. This reflects their automated and efficient design.
Combustion Chamber
At the heart of the stove, this is where the magic happens. It's a sealed area where the pellets are burned, differentiating it from the open burn area of a traditional wood-burning stove.
Burn Pot
Situated within the combustion chamber, the burn pot is where pellets are deposited to be ignited. Its design facilitates efficient and consistent burning.
Hopper
This is the storage area for the wood pellets. From here, you'll feed pellets into the burn pot at a controlled rate.
Heat Exchanger
This is a series of tubes or chambers where the stove's hot internal surfaces warm cold room air. The heated air is then pushed back into the room, contributing to the stove's heating efficiency.
Convection Blower
Unlike a traditional wood-burning stove, which relies solely on radiant heat, most pellet stoves use a convection blower. This fan circulates air through the heat exchanger and then disperses the hot air into the room, enhancing the spread of warmth.
Venting System
This expels the by-products of combustion, ensuring clean and safe operation. It's also an essential part of a pellet stove.
Step-by-Step Operation of a Pellet Stove
While they might be reminiscent of traditional wood-burning stoves in the warmth they provide, their functionality distinguishes them as modern. Here's a comprehensive step-by-step breakdown:
Loading the Hopper
Start by filling the stove's hopper with wood pellets. This storage compartment will feed the pellets into the combustion chamber. Depending on the model and usage, refilling might be needed daily or less frequently.
Initiating the Burn
Most pellet stoves use an automatic ignition system. Once the stove is on, this system transports the pellets from the hopper to the burn pot.
Ignition in the Burn Pot
Immediately you drop the pellets in the burn pot, the heating element or igniter starts the combustion process. Unlike the unpredictable flame of a traditional wood-burning stove, the pellet stove has a controlled and consistent flame within the combustion chamber.
Air Intake and Combustion
The stove draws fresh air for the pellets to burn efficiently. This air aids combustion, ensuring pellet stoves produce a clean and consistent burn. The air intake rate is often regulated to match the pellet feed rate for optimal combustion.
Heat Distribution with the Heat Exchanger
As the combustion process generates heat, this hot air goes through a heat exchanger. Unlike traditional wood-burning stoves that primarily rely on radiant heat, pellet stoves' heat exchangers capture this heat and prepare it for distribution.
Circulation via the Convection Blower
Most pellet stoves incorporate a convection blower that sucks in cool room air, passes it over the heat exchanger, and then pushes the now-warmed air back into the room. This cycle helps the hot air rise and fills the space more effectively. Thus making the heating experience more uniform and comfortable than some traditional methods.
Exhaust and Venting
After the combustion process, waste gases need to be safely expelled from the stove. So, a separate venting system manages this, making the air inside clean and free of harmful by-products.
Regulating Heat Output
Thanks to built-in sensors and control mechanisms, most pellet stoves can adjust the rate of pellet consumption and air intake. This results in a consistent temperature output, providing a steady warmth that might be harder to achieve with a traditional wood-burning stove.
Shutting Down
Once it reaches the desired temperature or the hopper is empty, most pellet stoves initiate an automated shutdown process. Hence, all residual pellets will be burned, and the stove becomes safe for close contact.
Advantages of Using a Pellet Stove
Pellet stoves, especially those burning wood pellets, offer unique advantages over traditional heating methods. Some of the prominent benefits include:
Efficiency
Pellet stoves often boast high combustion and heating efficiency. As hot air rises from the stove, it heats the room uniformly, replacing the cooler air, thus ensuring a steady and comfortable warmth.
Environmental Impact
Burning wood pellets is more environmentally friendly than burning fossil fuels. The Pellet Fuels Institute notes that these stoves produce fewer emissions than other heating options. Moreover, wood pellets are from renewable resources, minimizing their ecological footprint.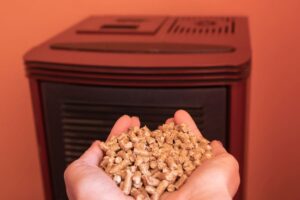 Consistent Heating
Thanks to automation features, most pellet stoves provide a consistent heat output. This consistency ensures that rooms maintain a stable temperature, making the environment more comfortable.
Less Mess
Unlike traditional wood stoves, which involve chopping wood and dealing with bark, dust, and insects, pellet stoves use bagged pellets, reducing mess and fuss.
Temperature Control
Many pellet stoves come equipped with a temperature sensor. This sensor adjusts the pellet feed rate, ensuring the stove operates at the desired temperature.
Economic Benefits
Over time, given the efficiency and the comparative cost of wood pellets, homeowners might find savings on heating bills.
Safety and Maintenance Considerations
While pellet stoves offer numerous advantages, it's essential to consider safety and maintenance to ensure optimal operation:
Ventilation
Like all stoves, those burning wood pellets require good ventilation. Ensure a steady supply of fresh air in the room to balance the hot air rising from the stove.
Regular Cleaning
Pellet stoves produce ash, albeit less than traditional wood stoves. Ensure the ash pot is emptied regularly to prevent blockages or inefficiencies.
Annual Inspection
It's recommended to have a professional inspect and service your pellet stove annually. This can help detect any wear and tear or potential issues early.
Cool Air and Hot Surfaces
While pellet stoves ensure hot air rises to warm the room, they also have hot surfaces. Keep these out of reach of children and pets.
Follow Manufacturer Guidelines
Always refer to the user manual or guidelines provided by the manufacturer for specific safety and maintenance instructions.
Use Quality Pellets
According to the Pellet Fuels Institute, high-quality pellets provide more efficient burning and reduce potential maintenance issues.
Install a Carbon Monoxide Detector
As with any appliance that burns fuel, it's prudent to have a carbon monoxide detector in the room to promote safety.
Bottom Line
Pellet stoves represent a harmonious blend of tradition and modernity in home heating. Offering efficient, consistent warmth through a user-friendly mechanism, they prove how technological advancements enhance and refine age-old practices. For those seeking a sustainable, effective, and convenient heating solution, pellet stoves are a worthy consideration.